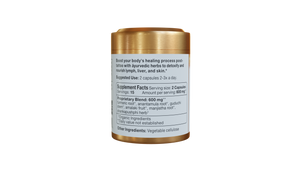 NEW TATTOO Lymph & Liver Support
Regular price
Sale price
$22.00
---
Ever wondered what happens to your body after getting tattooed? Medical studies have found pigments migrate to lymph nodes and also revealed pigment in blood and liver cells of test subjects. 
Siddha Labs' Founder Sarah Otto-Combs has a unique perspective on the process as an Āyurvedic practitioner who has over 60% of her body tattooed. After years of getting tattooed, she noticed her body was less able to handle getting work done, and would feel exhausted for days after a session. She developed New Tattoo after trying a number of herbal formulas on herself and getting asked by clients if she had something to share for their own tattoo experiences. Take advantage of her expertise and boost your body's healing process post-tattoo with our āyurvedic formula to detoxify and nourish lymph, liver, and skin!* 
This formula won't damage or remove the pigment from a tattoo but is designed to help your body manage excess pigment that can enter the body as part of the tattoo process.*
Because your tattoo is more than skin deep!
Ingredients
Turmeric: Curcuma longa
This superstar of the herb world is famous for good reason! While its actions and benefits are many, it's great for post-tattoo because of its impacts on the blood, liver, and skin. It is said to not only purify the blood, but stimulate the formation of new, healthy blood tissue. Turmeric helps impart a healthy glow to your skin, and has been used in skincare products for thousands of years. It is an excellent natural antibiotic while simultaneously supporting digestion and healthy gut flora! 
Anantamula: Hemidesmus indicus
As with turmeric, the benefits are too numerous to name them all. Sarah chose to add this herb because of its ability to gently detoxify the blood and its skin rejuvenating properties. This herb supports healthy energy levels especially after activities that cause weakness or exhaustion. It nourishes the plasma fluid and lymphatic system, and has the added bonus of helping pull negative emotions from the mind.
Guduchi: Tinospora cordifolia
Guduchi is used for its prabhāv, or unique ability, to pull toxins and poisons from the body. Traditionally used for gout, this herb is excellent for supporting liver health and deeper immunity, and has a direct affinity for the blood. It supports healthy digestion and is excellent for supporting healthy pitta and vāta.*
Amla: Emblica officinalis
Amla is included because of its ability to pull heat and inflammation from the body. It is an incredible rejuvenator and blood purifier. It increases ojas, or deeper immunity, and is used in Ayurveda to treat anemia and diabetes. It is excellent for supporting  immune systems indicated by getting frequent colds and more.*
Manjistha: Rubia cordifolia 
Though uncommon in the west, this herb is used traditionally in Ayurveda to bind poisons and toxins in the body. For you Ayurveda nerds, this actually has the same karma vidhāna as dashamūla- who knew! It's actions are similar, but with more emphasis on the blood and reproductive tissues. It also helps to calm pitta in the nervous system, which gets aggravated by the stress of tattooing.* 
Shankapushpi: Evolvulus alsinoides
Shankapushpi is listed in the classical texts of Ayurveda as the foremost intelligent promoter, and is an excellent tonic for both the nervous system and blood! Anyone who has sat in a tattoo chair for multiple hours understands why we want to calm the nervous system down. It helps to impart strength and stamina, and is an all around superstar.* 
*This statement has not been evaluated by the Food and Drug Administration. This product is not intended to diagnose, treat, cure, or prevent any disease.