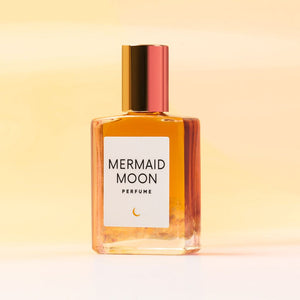 Mermaid Moon Perfume
Regular price
Sale price
$64.00
---
By the light of the full moon, you see the flip of a tail in the darkness, a splash of crystalline water, and then – nothing.  Beneath the surface is where all things truly live – and our mystical Mermaid Moon, with notes of Blood Orange, Black Coconut, Vanilla, Arabian Sandalwood, African Musk, will entice you, seduce you, and beckon you like the sirens of legend to dive in, and go deeper into your power. If you take down a few sailors...so be it.

Each bottle of Mermaid Moon contains Fluorite. Fluorite is a perfect fit for Mermaid Moon as it reflects light just like sea glass. Fluorite crystal is key when it's time for a major emotional facelift. It clears away the fog so that the road to joy is clearly lit and protected from negativity. 
Mermaid Moon Perfume is hand poured into a ½ oz glass roll on bottle with a gold cap.
 ♥ All products from Olivine Atelier are VEGAN and CRUELTY FREE! ♥
BONUS TIP:
This bottle of perfume is a sacred object.
I would love to suggest a beautiful ritual to use before using your perfume for the very first time…
Spend a moment thinking about an intention that you would like to infuse your perfume with. It could be love, grace, abundance, getting your perfect home, job, love, etc. (Side note...NEVER include another person in this intention, this is all about you and no one else.  Promise?)
Hold your perfume bottle between your hands and close your eyes. In your minds eye see the bottle filling up with a pale pink light and see your intention in this pink light. See it, feel it, be in that feeling for a full minute. Now put on your perfume and inhale the scent.
EVERY TIME you put on this perfume I want you to feel into that intention.
You are free to reset the intention on your bottle whenever you like, but it will hold your intention until the bottle is finished.
NOTE: Your 13 Moons Perfume is meant to be used all year round and whenever you feel drawn to the scent or your intention with the scent. It carries the energy of the Mermaid Moon, and her energy will be just as delicious every day of the year!