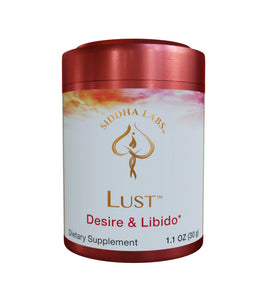 LUST Desire & Libido
Regular price
Sale price
$22.00
---
Featuring standardized extracts of 20% saponins, our adaptogenic formula is a powerhouse blend of flavonoids and antioxidants shown to destress and help get you in the mood.
Vegan | No Fillers | Non GMO | Expert Formulated | Gluten Free | Made with Love
Featuring āyurvedic adaptogens used for over 5,000 years including-
Tribulus to promote a healthy libido and strengthen sensation*

Ashwagandha to support a healthy stress response and promote libido*

Cacao to stimulate endorphin release*

Shatavari to nourish hormonal balance

Sariva and Ashwagandha to replenish sexual fluids*
Take 1/2 tsp daily with beverage of choice (cacao or milk will enhance the effect).
Best results are achieved when used for several days in a row.*
Ingredients
Tribulus extract 20% saponins
Tribulus is well known for its ability to increase sex drive and sexual satisfaction. Studies have shown that taking tribulus regularly can lead to improvements in sexual arousal, desire, and lubrication. It has also been shown to relieve inflammation. 
Ashwagandha extract 5% withanoloids and whole root
Latin name Withania somnifera
This adaptogen is famous for helping to regulate cortisol levels and thus stress. It is one of the best herbs for balancing vata, and is known for nourishing the muscle tissues and supporting proper adrenal function. It is also used to maintain a healthy libido, and is a wonderful nervine. It is said to give the virility of horse.
Shatāvari root extract 20% saponins
Latin name Asparagus racemosus
Shatāvari is a nutritive tonic that has been used for thousands of years to support healthy female hormonal balance. It is also nutritive for men, especially when depleted and dry.  It's name means "100 husbands",  and encourages a healthy libido and vitality. It is wonderful for balancing pitta and vata, and helps to nourish rasa to keep you juicy. 
Anantamula/Sariva root° 
Latin name Hemidesmus indicus
This wonder herb is our absolute favorite!! A favorite for balancing Pitta, this potent adaptogen nourishes plasma and blood tissues, helping to keep you juicy especially as we age. It is said to have an affinity for the reproductive system and to nourish the uterus. It is also known for helping clear the mind of negative pitta emotions, thus helping to keep you in the mood.
Cacao
Anti-inflammatory, antioxidant, and helpful in improving blood circulation, cacao is a must in any aphrodisiac formula. A natural energy booster, cacao is full of flavonoids and helps get you in the mood.
Stevia
°organic ingredients
 *These statements have not been evaluated by the Food and Drug Administration. This product is not intended to diagnose, cure, treat, or prevent any disease.
Consult your healthcare practitioner before use if pregnant.